About a week or so ago, my dad gave me a call. It was just after our lunch break and I had just finished eating my share of lunch and was about to return to work when I got the said call.
My dad told me to find the sun and look at it. It may sound like a weird request and I would have thought of it the same way when he added the part about the sun having rainbow rings surrounding it. Of course, being a fan of the not-so-normal occurrences, I obliged.
What did I saw when I look up at the surroundings of the sun? Exactly what my dad told me. Surrounding the sun were rainbow-colored rings. There were no clouds and you can visibly see what seems to be a hole in the sky, it was in a way awe-inspiring and scary at the same time.
I decided to take a picture of what I was seeing but considering the fact that it was so hot and that I did not want to go in the middle of the parking lot and stare directly at the sun to take the shot, I stood by the sidelines and ended up taking half-a-picture.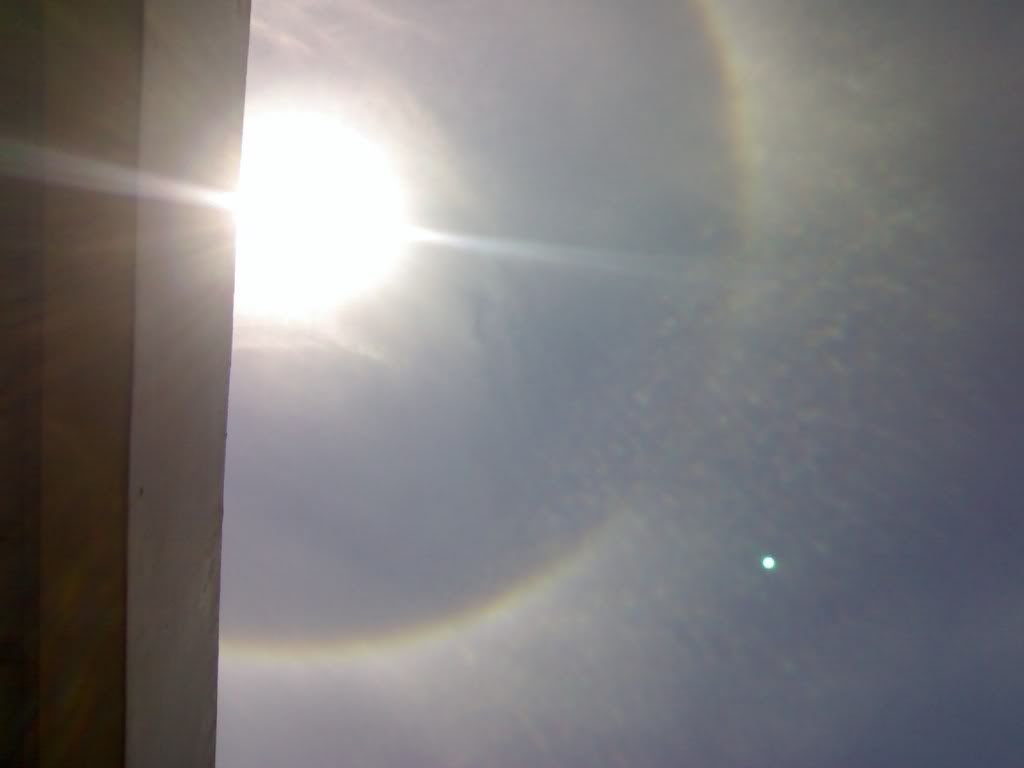 Yeah, I knew I could have done better with that image but, as my younger sister is the better photographer, I decided to let it slide. Not only that but, as others seemed not to notice around me, I looked like some sort of crazy person.
When I got inside the office, I checked the image that I took and I noticed something I hadn't noticed before, there was a small, circular glowing thingy on the picture. I checked the lens of my camera phone to see if there was anything that could have caused the said light to appear but there was none. I looked back outside and there was no light there as well, I took another picture and still no UFO unlike the picture I took before. What's more, the surrounding of the sun had turned dark, and it looked pretty scary than before (plus, break time's almost up).
I never did learn why the sun showed such a spectacle. There weren't any news about it and I never figured out what the UFO on my picture was. Perhaps a person reading this and someone who saw the picture I just showed you guys can tell me and enlighten me.
Moving along, I have finally updated the Rabbit on the Moon fanfic with it's 57th chapter entitled: "The Beginning of the End" — a title that's not so original but the reason for which could be found upon reading the said chapter in FFN.
Also, I have received a PM from a fellow FFN author and reader stating that I have been nominated for the Fall Author Awards that would be decided via votes (or something similar), and so I have my fingers crossed on that one. I am also on my way on buying a PS3 Slim for myself (hurray!). Also, you can also download now the most recent TRC chapter on our Downloads Page in the VIS Official Website. It's one heck of a chapter!
With that said, it's time for me to rest. I'm still pretty much sick with a migrane and my parents have started to nag me to sleep again, lol. Expect more updates from me in the coming days, believe it!