Before I begin, I offer my heartfelt congratulations to Sakura Martinez. I won't specify the reason. It's something that I believe she, and only she, has the right to disclose. I have no intention of playing the spoilsport, so you'll just have to wait for her to fill you guys in. XD
Anyways, back to the sports. This week we have had some really exciting moments to relive; a volatile race weekend, a potential championship deciding derby, a return of sorts of a king and what to look forward to in this coming week.
FOOTBALL
Midweek Champions League action first and Spanish duo Real Madrid and Barcelona suffered defeats in the first leg of the semi-finals. Bayern Munich's Mario Gomez scored in the dying minutes of the game to give the Bavarian giants a 2-1 advantage going into the second leg. Meanwhile, Chelsea beat current holders Barcelona thanks to a solitary goal scored by Didier Drogba in what was undoubtedly a one-sided match in Barcelona's favor.
It has been an absolute rollercoaster weekend in Europe, especially England. Manchester United entertained Everton at Old Trafford and entertain they did. 4-4 was the final score with Everton taking the lead only for united to go up 3-1 then 4-2. Towards the death, Everton rallied on to score two more goals, meaning United had dropped two points at home. Manchester City registered a routine 2-0 win over Wolves. The result means that United have had their lead cut to three points. Arsenal consolidated their third position with a 0-0 draw against Chelsea.
In Spain's La Liga, one of the most anticipated derby games in the world took place on Saturday. Real Madrid hosted Barcelona in the 'El Clasico'. Real were four points ahead of Barca before the game and looked to be on course to extending that lead to seven when Sami Khedira bundled in the ball from close range. Barca though drew level thanks to a similar goal-mouth finish by Alexis Sanchez. But it was Real who had the last laugh when Cristiano Ronaldo slotted the ball into the Barcelona goal in the 73rd minute, giving Real a long awaited El Clasico win and more importantly, a seven point gap at the top with three games to go.
The Bundesliga race is now officially over with just two more games to go. Borussia Dortmund retained the German championship after a routine 2-0 victory over Borussia Monchengladbach. They are the first team since Bayern Munich in 2004-2006 to win two consecutive titles. Bayern secured second spot with a 2-1 win over Werder Bremen.
In the Italian Serie A Juventus opened up a 3 point lead over defending champions AC Milan with a 4-0 drubbing of AS Roma. Milan, were held to a 1-1 draw on Sunday against Bologna after conceding in the 28th. They were then reduced to ten men with less than ten minutes to go. But Zlatan Ibrahimovic scored in the 90th to salvage a point for the Rossoneri. Only five games left in the season.
FORMULA 1
Round 4 of the Formula One calendar took us to Bahrain. The race was held under some trying circumstances, with protests flaring out in the country. Friday saw Force India get caught up in one such protest with petrol bombs exploding close to the team as they were heading back from practice. Despite this, F1 chief Bernie Ecclestone had stressed that the race would go on nonetheless and it did. Saturday saw champion Sebastian Vettel secure the pole for the starting grid. Sunday's race went on without a hitch and Vettel held on to claim his first victory of the season. Comeback man Kimi Raikonen finished second for the Lotus racing team despite starting from 11th in the grid while his teammate Romain Grosjean finished third. Current championship leader Lewis Hamilton finished in eighth.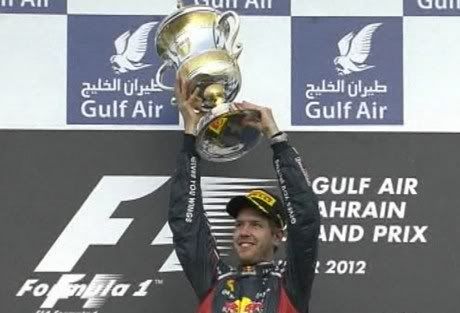 TENNIS
The week saw some major action in the form of the Monte Carlo Masters. The final was played between current World No.1 Novak Djokovic and the King of the clay-courts, Rafael Nadal. Before this game, Nadal had lost the previous seven finals he had played against Djokovic but this time things turned out different. Nadal won the game in straight sets, 6-3, 6-1, to claim his eighth successive Monte Carlo title.Rafa will now look forward to adding to his six French Open titles later next month.
Watch Out For . . . . .
The second leg of the Champions League semi-final will see both Chelsea and Bayern take one-goal advantages to Spain. If this week we had the El Clasico, then next week promises to be even better with neighbors, United and City facing off in what is billed by many as the "most important Manchester Derby in 117 years." Nothing major in other sports this coming week but lots of great action to look forward in the summer including the London Olympics as well as the Euro 2012.